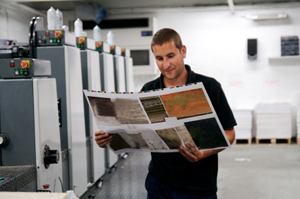 Founded in 1982 by Richard Svec, SVECONWAY has grown from a small printing company into one of the finest in our region, offering design, printing and fulfillment services to businesses, associations, universities and non-profits across all industry sectors.
Since 2003, under the ownership of the Firestein Family, SVECONWAY took on a new direction, philosophy, enthusiasm and commitment to revitalizing our operational, technological and environmental commitment. As we continue to evolve, we've expanded our scope of services and taken steps to make green printing a priority, long before it was fashionable. Since then, we've continued to incorporate green technologies, procedures and materials into all aspects of our daily business. And, in 2009, we were honored with American Printer Magazine's "Environmental Excellence Award."
And that's just part of our story. Throughout our history, SVECONWAY has made it our business to provide exceptional and reliable service to our clients, accommodate their tight deadlines and produce the materials they expect from one of the Washington area's finest printers. At SVECONWAY, our dedicated professionals work with you from concept to completion, overseeing every phase of production so that you can focus on the day-to-day aspects of your business.